Public Engagement Best Practices For Transportation Planning
What's wrong with the current state of public involvement?
For planning organizations, a handful of persistent challenges have become hurdles to equitable, meaningful engagement:
A lack of certainty in the ability to

 

reach

 residents and offer equitable opportunities

Residents are less likely to

 

engage

 because of a lack of access or mobility

Disjointed tools don't

 

capture

 virtual and traditional efforts in one place

Siloed data makes it burdensome to

 

report

 in a way that tells a clear story

Manual processes make it difficult to

 

comply

 with regulatory mandates
Without clear metrics of success and the appropriate tools, it can be difficult to meet the expectations and requirements of a Public Involvement Plan – much less the myriad of state and federal policies that address public participation. Disjointed tools demand that MPO professionals master skills outside of their core competencies, leading to more work without optimal outcomes.
Forward-thinking transportation planning organizations are applying holistic software that integrates virtual and traditional public involvement processes.
The 5 Building Blocks Of Public Involvement
Analyzing hundreds of projects, survey responses, and interviews with MPO professionals, a handful of key themes have emerged. These themes can be summarized as five building blocks of successful public involvement:
REACH
Understand who's missing and apply targeted outreach to gather meaningful, representative participation
Selectively target traditionally underserved voices via social media
Geofence potentially impacted communities directly from a public participation database
Quantify public involvement gaps with census data comparison
Extend your reach with partners and targeted media placements
Track participation with self-identifying location tools and Geo IP data that prioritize privacy
ENGAGE
Increase quality and quantity of public involvement by lowering the barriers to participation
Meet residents where they are with mobile-friendly websites, text messages, email, and online town halls
Create equity across multiple formats with uniform engagement
Ensure representative participation and equitable influence at public meetings
Gather input with 20+ dynamic question types, including interactive maps
Increase LEP population participation with multilingual translation across all outreach
Streamline email and SMS outreach with built-in segmenting and outreach tools
CAPTURE
Bring together virtual and traditional channels with a public participation database
Combine all communication and input formats in one place
Catalogue resident information and follow their participation history
Create segmented contact lists based on geographic areas, interests, or demography
REPORT
Tell a clear story of engagement and build trust by closing the loop with participants
Aggregate comments from all engagement channels
Find common themes with comment tagging and analysis
Quickly visualize data using 20+ formats
Share real-time results, embed data visualizations into websites and emails, or create meeting-ready reports
COMPLY
Enjoy peace of mind with built-in regulatory compliance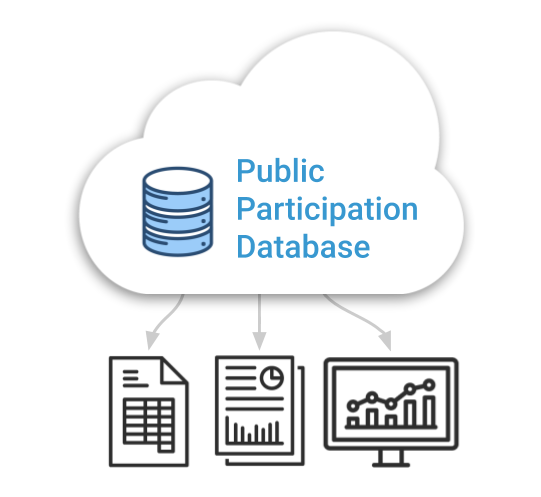 Ensure accuracy and reduce human error with automated processes
Keep data organized in a way that is easy to understand
Automatically document all input and communication
The best practices guide
After surveying transportation planning professionals nationwide, PublicInput.com has put together Integrated Public Involvement: The MPO Guide To Success Across Virtual & Traditional Methods.
Based on input compiled from MPOs serving populations of 200,000+, the guide serves as a go-to resource for all MPOs to improve the public involvement process, from outreach to implementation.
The guide provides insight on essential questions such as:
How do you reach residents without having to be everywhere at once?
How do you engage under-represented and impacted communities?
How do you report findings in a way that increases trust with residents and stakeholders?


What we heard:

69% of participants agreed with the statement, "There is a direct correlation between increased participation and increased workload."
88% of Communicators and 77% of Executives ranked building a public participation database as either "Important" or "Very Important".
97% of participants said reaching potentially impacted communities was "Important" or "Very Important"
91% of participants said gathering a representative sample by demographic was "Important" or "Very Important"

 

Take a first step toward Public Involvement Success

Building stronger relationships and smarter decision-making starts with three steps:

Schedule an intro call to learn more and discuss your current process
Receive a custom implementation plan tailored to your organization
Schedule an onboarding call to train key staff members on new tools and processes