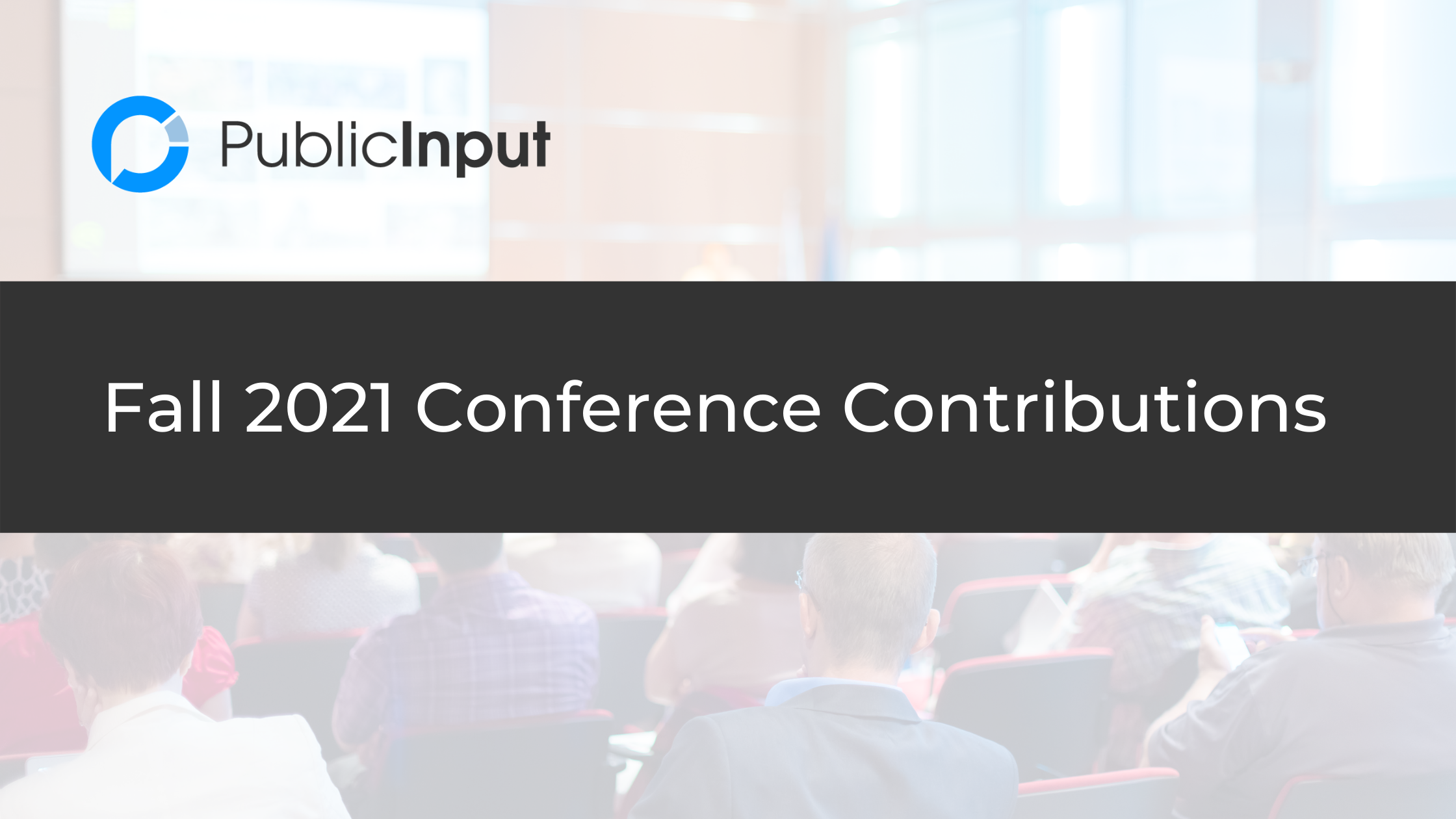 Fall conferences are around the corner and PublicInput is excited to contribute to some of the nationwide opportunities for governments and public engagement practitioners to come together for these valuable shared learning and networking  opportunities.
IAP2 North American Conference
September 15, 2021
The 10th Annual International Association for Public Participation's (IAP2) North American Conference is all virtual this year and PublicInput is joining the mix to moderate a special session on virtual public engagement.

Panelists include our very own Graham Stone along with Emily Woodell (KGBTexas), Camden Yehle (Yehle & Associates), and Ashley Traynum-Carson (City of Asheville, NC) who will be discussing the "silver lining" of the public engagement during a pandemic.
There is still time to register to attend the session along with the many other sessions that have been scheduled around this year's theme of Sound Partnerships: Community Engagement in Times of Change.
IAP2 USA is a nationwide organization that leads, advances and advocates for best practices in public participation. It is a home and community for people who believe good decisions can be made together.
ELGL Annual Conference
September 23-24, 2021
PublicInput is proud to be a title sponsor for the  Engaging Local Government Leaders (ELGL) 2021 virtual annual conference.  The conference includes two full days of local government learning plus connection and networking opportunities.

There is still time to register if you already haven't!
Engaging Local Government Leaders (ELGL) is a professional association whose mission is to engage the brightest minds in local government by providing timely and relevant content with the objective of fostering authentic and meaningful connections that are grounded in practices of equity and inclusion.
NFOIC Summit
September 30, 2021
Later this month, PublicInput's Tricia Thomas will be joining a virtual panel presentation at the National Freedom of Information Coalition's (NFOIC) Freedom of Information Summit discussing "How Can More Informed and Diverse Public Engagement with Government Foster Greater FOI."

This year's summit will also include about a dozen other sessions and hands-on training seminars.
Don't wait, sign up now to hear more about what the pandemic has taught us about FOI, listening to the next generation of open government advocates,  and how to close the data gap in minority communities.
NFOIC is a national nonprofit, nonpartisan organization that promotes press freedom, legislative and administrative reforms, and dispute resolution to ensure open, transparent and accessible state and local governments and public institutions. 
AMPO Annual Conference
October 6, 2021
PublicInput's Tricia Thomas will also be  joining Lori Maher (Genesee Transportation Council) in an informative session at the upcoming annual conference of the Association of Metropolitan Planning Organizations (AMPO).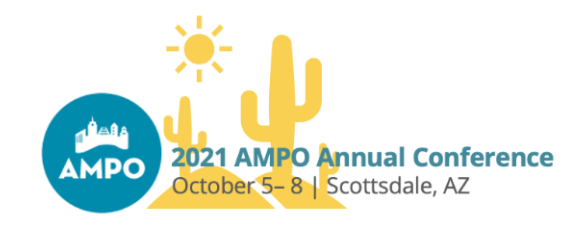 Tricia and Lori will discuss the impacts and opportunities of virtual engagement tactics during the pandemic and how a small team expanded their community engagement outreach.
The AMPO in-person conference educational sessions and  networking opportunities will be held in the beautiful Sonoran Desert with abundant outdoor space and social distancing in place.
There is still time to register!
AMPO is A transportation advocate for metropolitan regions and is committed to enhancing the ability to improve metropolitan transportation systems.