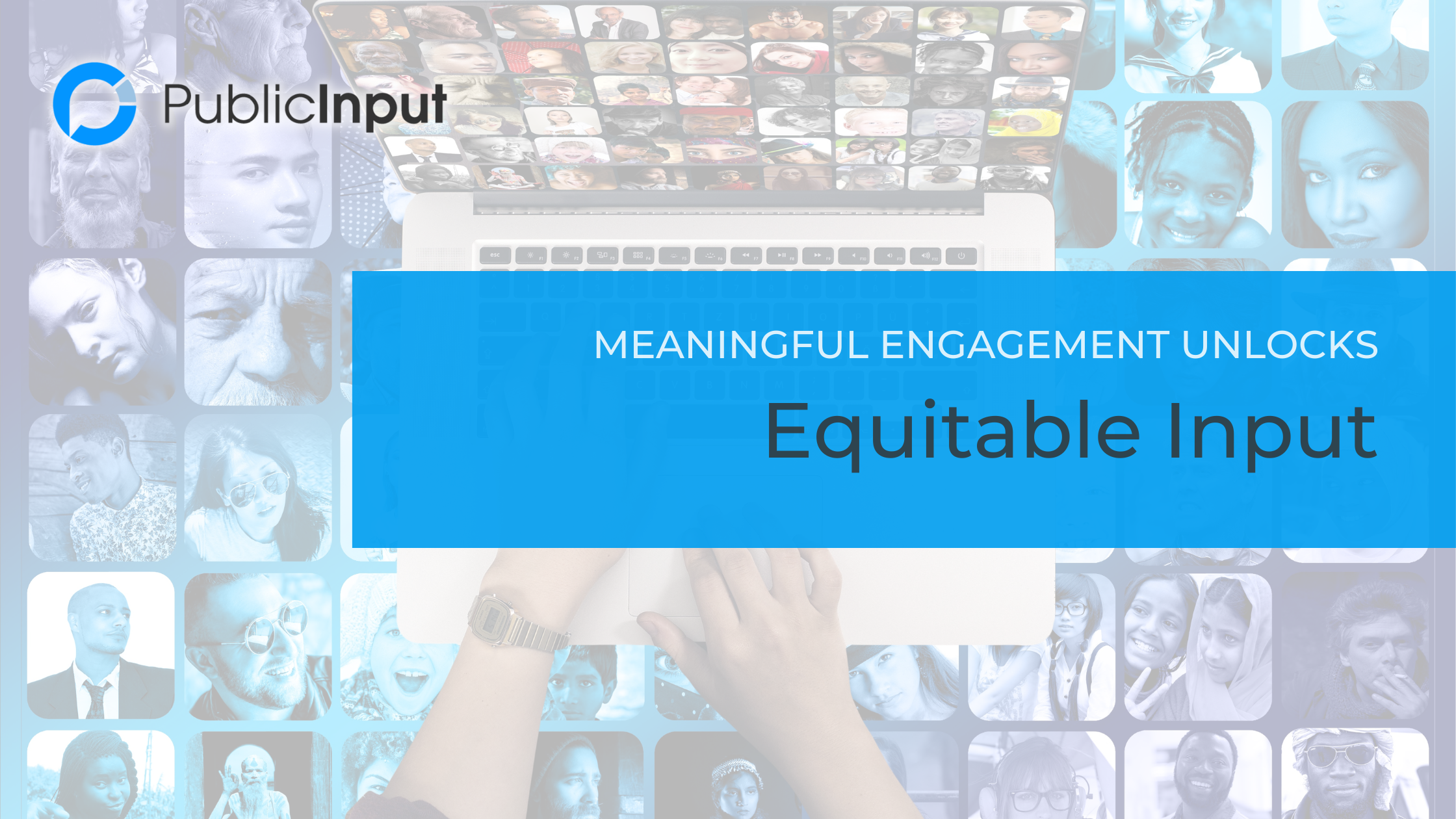 Meaningful Engagement Unlocks Equitable Input
Installment #2 of the Effective Engagement Blog Series:
In this series, we will discuss the four elements of an effective engagement strategy (outreach, input, analysis, and feedback) and how practitioners may address the post-2020 resiliency and trust building challenges associated with the ongoing change in community expectations.
In this installment we address equitable opportunities for the community to provide input that encourages contributions from diverse voices and the collection of meaningful data.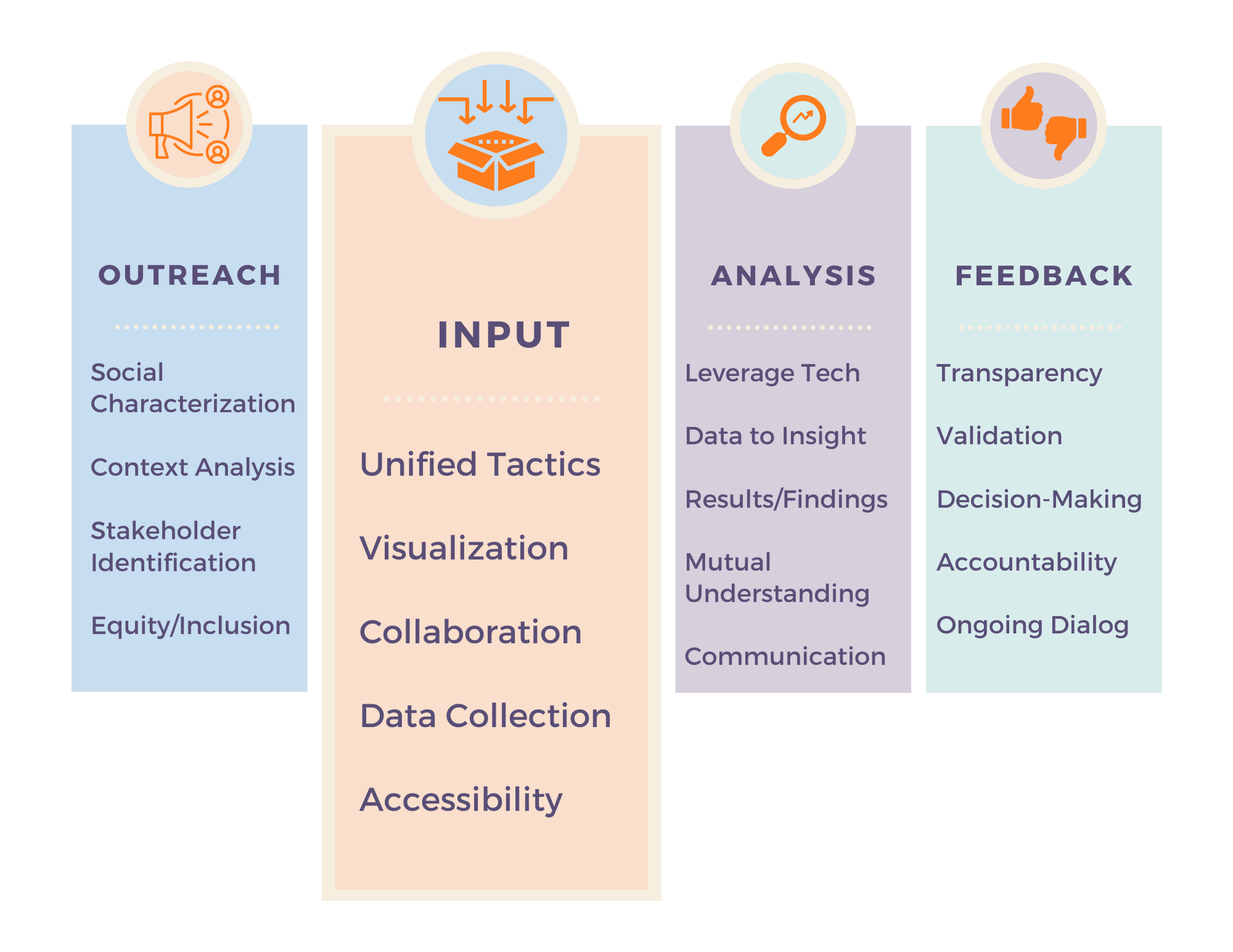 ICYMI: Click HERE ​to read installment #1 Outreach
Asking for Input
Community input can take a variety of forms, whether it be survey responses, testimony, or a personal email exchange, the need for an equitable strategy that engages a broad demographic within the community or project era is key to effective decision making.
When asking for input, a willingness to listen paired with a comprehensive outreach communication plan will help contextualize the challenge or opportunity at issue.  This combined approach (willingness, strategy, and communication) establishes a realistic view of existing conditions, articulates transparency, and offers significant opportunities for providing input.
Asking for input must capitalize on community insight by considering things like using the predominant characteristics of the  community to tailor your requests for input.  Tailoring these requests incorporates accommodations into the process that makes it easier for more people to provide input.  Examples of these types of  accommodations may include:
Language translation and interpretation.
Supplementing with closed captioned virtual meeting options for people with disabilities.
Offering in-person meetings along a bus route for those who are transportation insecure or unable to drive.
Providing onsite childcare during in-person meetings in areas where there is a large population of children.
Partnering with credible non-governmental community leaders in areas where governmental distrust is high or language/cultural barriers contribute to engagement challenges.
Co-Collaborators
The culture of viewing the community as co-collaborators with valued insight may be a challenge depending on the way a given community has approached public engagement in the past.
One fairly typical collaboration struggle emerges regardless of setting (work, public etc.) and can be mediated through messaging and engagement strategy that acknowledges the subtle differences between input and feedback.
When we are asking for feedback, we are taking an initiative, communicating it, and then asking for thoughts, opinions, questions, etc. about the initiative we took.  
Conversely, when we are asking for input, we are opening ourselves up to the ideas, insights and information of someone else, and then working with those ideas alongside our own. Together, we take a step toward a desired outcome. If we think we are asking for input but are really only getting feedback, we're not truly collaborating.
Tia Peterson, The Critical Difference Between Input and Feedback
Adding an equitable lens to this understanding of input versus feedback will empower your efforts to meaningfully engage a broader audience in the collaborative process by soliciting real input that can be used in the decision making process.
Unified Tactics, Visualization, & Course Correction
From standard to novel, public engagement tactics vary in scope and effectiveness widely. The success of an engagement strategy is directly dependent on the appropriate application of the tactics, which must (in this day and age) include a digital experience element.
Unifying engagement increases efficiency and supports an ongoing view of the equity impacts of your efforts.  When tactics and engagement are unified in one place, equity challenges are easier to plan and course correct.
Visualizing Equitable Input: mapping technology that unifies and visualizes community insight (ex. distribution of ESL speakers in a geographic area) provides practitioners with a clear perspective on which tactics and approaches should be used when soliciting input (ex. plan to provide language access support).
Course Correction: as the community contributes input, the unified collection of data by tactic will begin to "paint a picture" of the respondents from a geographic and socio-economic perspective (ex. 85% of respondents to date are over the age of 50).  Using technology to aggregate input in one place can accelerate triggers needed to adjust tactics and approaches to encourage more diversity.
Accessibility & Data Collection
One of the most efficient ways to support an accessible data collection  strategy is by leveraging technology that provides dynamic options that lowers the barriers that prevent  equitable participation.
Want to learn more about how the PublicInput technology can help?  Schedule a chat with one of our engagement experts to learn more about:
The Public | CRM is a living dashboard that stores historical data over time and across projects.  Designed to help governments move past data collection to actionable tactics, the Public | CRM module automatically synchronizes to develop a deeper understanding and segmentation after each interaction.
Upgrade Public | CRM with the Public | Equity Mapping feature to visualize participant data overlaid with custom environmental and socio-economic data specific to your community or project area.
A Public Portal that increases project awareness and transparency by providing a customized listing of projects, meetings, and resources all  in one place.
Public | Surveys provide dynamic options for informing and engaging  the public with mapping, budgeting, videos, images, and PDFs.
Public | Meetings increase equity and access by removing the need for software downloads or Broadband Internet, creating automatic multilingual closed captioning, and guaranteeing transparency with open government compliance.