Ashley Traynum-Carson from The City of Asheville recently joined PublicInput.com CEO Jay Dawkins on GovLove, the podcast produced by Engaging Local Government Leaders (ELGL). Recorded on Inauguration Day 2021, Ashley, Jay, and host Kirsten Wyatt look back on a historically challenging year for government marked by social distancing and social unrest.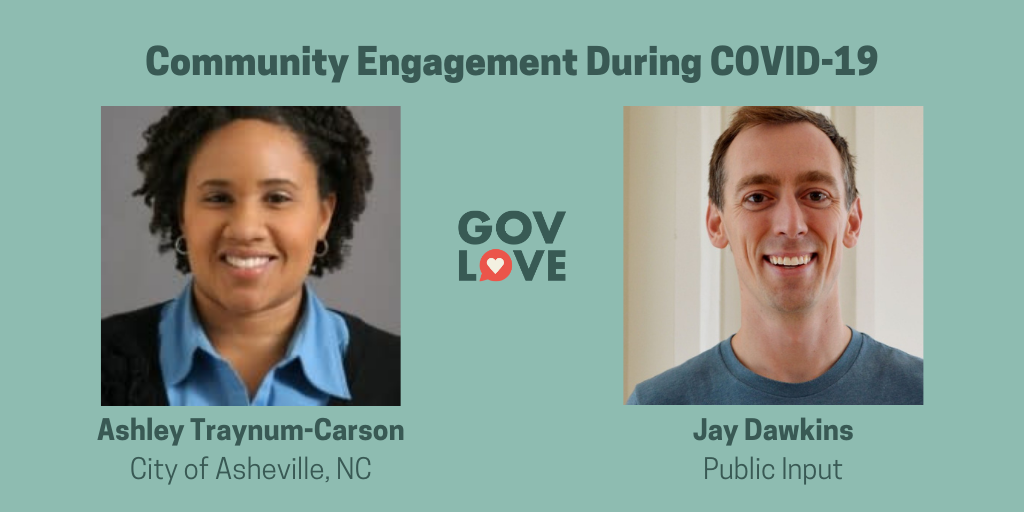 Ashley and Jay agree that last March "was a blur" for both local governments and the software solutions that work with them. As The City of Asheville went into quarantine, "I knew we were going to have to change things," said Ashley in regards to keeping public participation on track. "We have to figure this out and figure it out fast."
Meanwhile, Jay was starting to notice that many government organizations who use PublicInput for collecting feedback at their in-person meetings were starting to cancel them.
Ashley and Jay talk about how Virtual Public Meetings purpose-built for government helped overcome problems like "Zoom-bombing" and analyzing over 50 hours worth of public comment during the Black Lives Matter protests last summer.
---
---
Looking ahead, Ashley and Jay discuss how government organizations can maintain the benefits of Virtual Public Meetings as in-person meetings slowly come back, to host "hybrid public meetings".