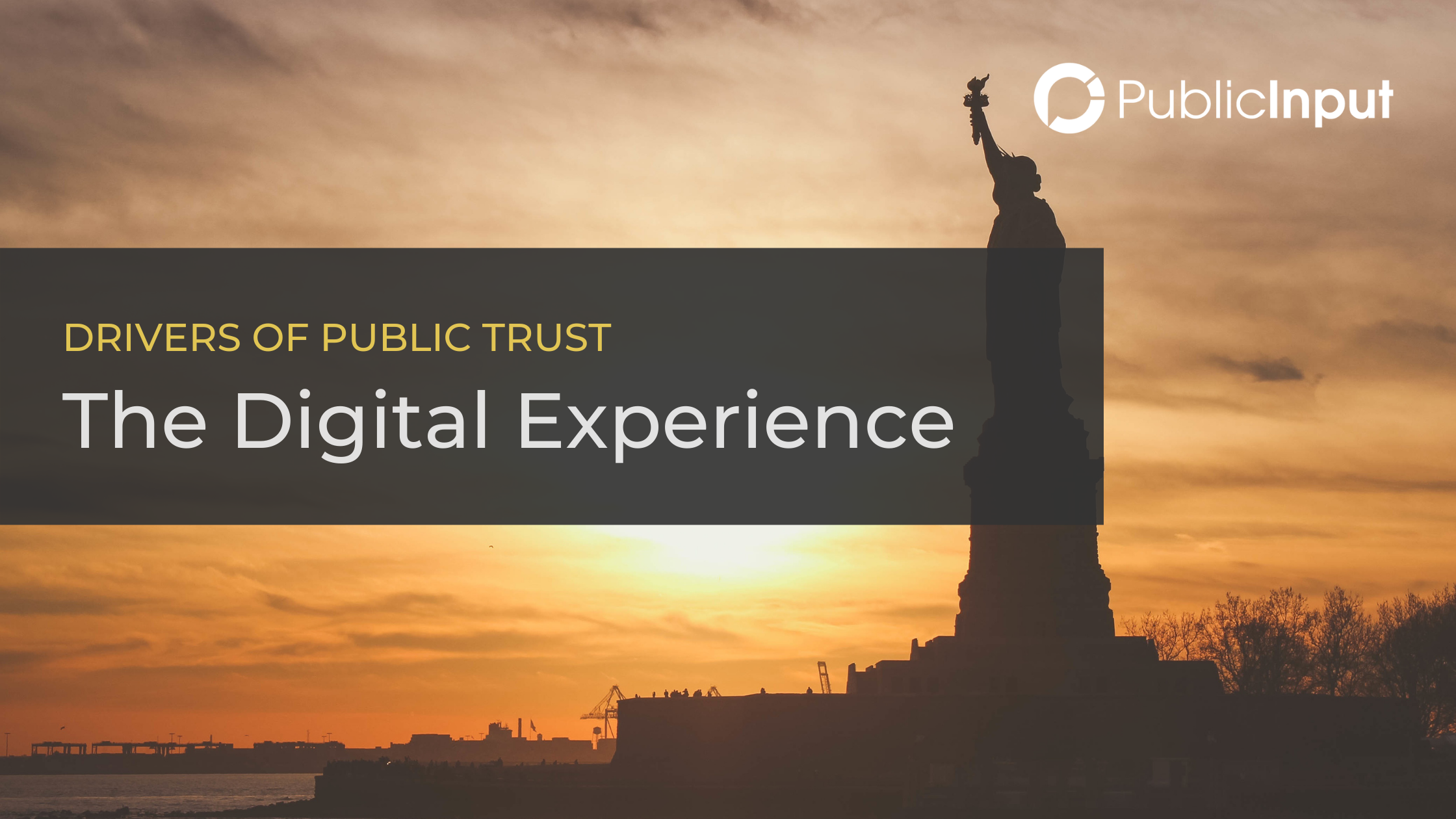 With the release of the 2020 decennial census data, communities across the nation are moving forward with putting the data to use.  For planners this means updating planning area boundaries and information; for the wider community this means the process of redistricting.  While the redistricting  process of drawing new congressional and state legislative district boundaries occurs every 10 years, the level of trust the community has in this process varies.
A recent article discussing redistricting stated that,
. . . Americans aren't necessarily confident that the process will be a fair one. Just 16 percent of U.S. adults said they thought their states' congressional maps would be drawn fairly, while 44 percent said they thought the maps would be drawn unfairly, per an August YouGov/Economist poll. 

— Mackenzie Wilkes, FiveThirtyEight
A Different Crisis of Confidence
We have written on the concept of the crisis of confidence as it pertains to open and transparent government and ways to mitigate negative community perceptions.  In particular, a unified engagement approach is the first line of defense for engagement practitioners seeking to build and/or reinforce public trust.
According to a recent study released by Deloitte, when it came to trust, both state and local governments were generally viewed more favorably when compared to the federal government.  Here is a glimpse into the three themes that emerged from the study about "…why citizens trust or tend to not trust various government entities."
The more local, the more trusted: Trust in government varies dramatically at different levels of government.
Digital experience drives trust: A citizen's digital experience with a government agency was a strong predictor of their overall level of trust.
Mission matters: The mission of various government agencies can greatly influence citizens' perception of trust.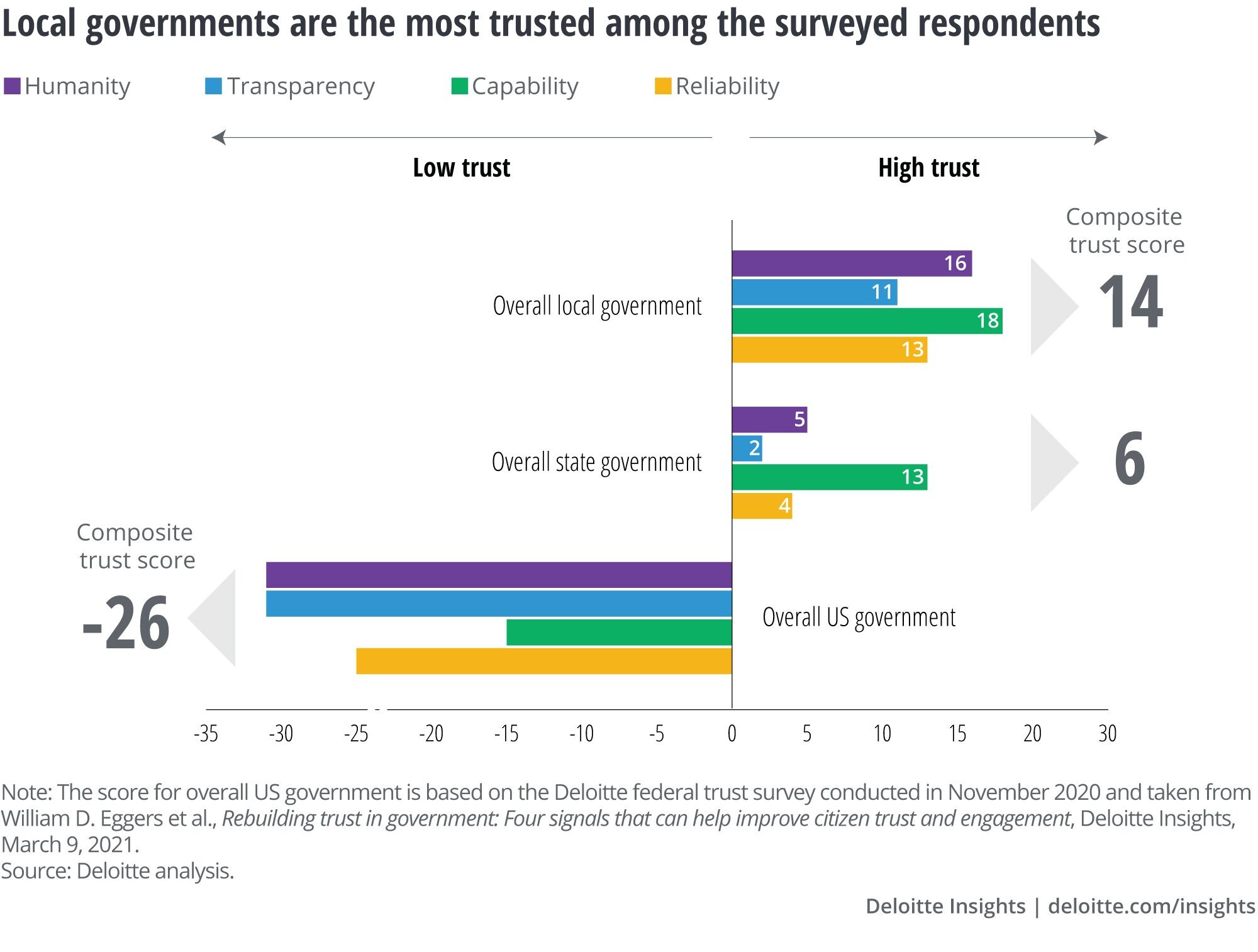 This is good news for practitioners working in the community, at local governments, and state/regional planning organizations.  Not only are these practitioners associated with a more trusted level of government, but their efforts – focused on improving the lives of residents – positively impacts the perception of trust.
Decisions made by local government on various issues ranging from education and housing to public safety tend to directly impact people . . . More recently, state and local governments have been in the front line of COVID-19 response, managing the supply of necessary medical equipment as well as restoring the economy, which could be a major factor impacting present levels of trust in state and local governments.

— Route Fifty, State and Local Government Beats out Federal in Survey of Citizen Trust
Digital Experiences Drive Trust
"…during enormous disruption, the critical currency of trust carries an even greater premium.  Trust is the one thing that changes everything.  We still have to do other things – collaborate, be adaptive and agile, and stay responsive to changing conditions – but . . . we can do all of those things better if we start with trust."    

— Stephen Covey, Move with the Speed of Trust
For governments and engagement practitioners, the insight from the Deloitte study sends a clear and prominent message about the role digital experience has in the development and maintenance of public trust.  Outside of mission and legislative platforms this is the only driver of trust that can be immediately addressed.
In a world where businesses like Apple, Amazon, and Google have perfected the digital experience, consumers of public goods arrive at the virtual door of city hall with high expectations.  For public engagement practitioners, this means you need to step up your game if you want people to participate, and they must have a positive experience.
Evaluating the effectiveness of your public engagement digital experiences starts with these four basics:
Electronic Surveying
Virtual Meetings
Requests (information, resources, accommodation)
Ongoing Communication
Considerations for evaluating digital experiences includes the need for an experience that is fast, intuitive, free of friction, and feels tailor made for the community. This experience should also provide options for support, should any of the above fail. In doing this, governments will be able to enhance the digital experience of their stakeholders, as well as clear the path for two-way communication and engagement among their constituents.
Currently, the prevalence of contemporary peer-to-peer communication tools, such as social media platforms, has provided citizens with the ability to be able to communicate (or, at least, feel like they are communicating) with decision makers online. Studies have shown that this mere perception of communication, in a direct and personalised form, substantially contributes to the individual's perception of trustworthiness of the specific institution.
The Disinformation Complicator
Managing transparency and the flow of information between local governmental agencies and the public is an ongoing challenge that has been further complicated by disinformation.  According to an economic study by CHEQ and the University of Baltimore, disinformation around the world costs an estimated 78 billion dollars annually.
As the crisis of confidence continues to negatively impact communities, the need for agility in the way public engagement is approached is critical.  For many, leveraging available technology to provide community members with a digital experience that is positive, meaningful and ultimately aides in increasing the perceived level of trust is a must.
Most governments did not pivot from traditional operating models to employ the agile, whole-of-government approach required for today's interconnected, rapidly evolving agenda. 

The current crisis has also highlighted how a lack of clarity about the roles and responsibilities of national versus subnational governments leaves constituents feeling vulnerable.
Want to read more about how the digital experience and other transformative drivers are shaping the landscape of public trust and public sector decision making?  Download our NEW eBook, Collaborative Democracy is Trending by clicking on the link below.