How A Small Team Expanded Their Community Engagement Reach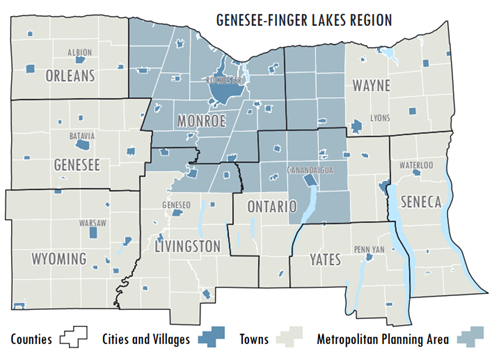 The Genesee Transportation Council, or GTC, is the Metropolitan Planning Organization (MPO) for the nine-county Genesee-Finger Lakes Region of New York State based in Rochester, NY.  The region is home to an increasingly diverse population of 1.2 million people, which comprises metropolitan areas, suburbs, and rural farmlands.
In the summer of 2020, GTC scheduled the roll out of the first phase of engagement for its long-range metropolitan transportation plan (LRTP).  Prior to this, GTC committed to greater engagement by facilitating a wider range of strategies throughout the community.  What they couldn't plan for, however, was the COVID-19 pandemic that forced the office to close in March 2020 and shifted staff remote work.
We were forced to pivot to a virtual public engagement approach.

Even though we were in the process of procuring PublicInput to execute virtual tactics we were still planning on supplementing with traditional in-person strategies such as farmers markets, festivals, and open houses

…the public health guidelines instituted during the pandemic, forced us to pivot to a completely virtual public engagement approach.

—Lori Maher, GTC Community Engagement Program Manager
Faced with the impending need to pivot, GTC used the PublicInput platform to deploy messaging and ways for the community to engage with GTC around the LRTP update and other core work products.
This focused outreach resulted in open rates as high as 52.79%.
Regular Business Adapted
For GTC, and others like them, the 2020 pandemic resulted in a varied and unexpected array of challenges to "business as usual." And as the need for flexible and adaptable engagement methods became critical in meeting federal requirements, GTC acknowledged that circumstances beyond their control had the potential to critically impact their ability to meet some of their foundational responsibilities.
The COVID-19 pandemic taught the world just how fast the traditional way of doing business can change and evolve. The long-term impacts of the pandemic on everyday life have yet to be realized.  Just as LRTP 2045 acknowledges the uncertainties surrounding the impacts of the pandemic and provides flexibility in our response, so too was our approach to public engagement. 

— GTC Long Range Transportation Plan
Maximize The Power Of Technology
Like many MPOs across the  nation, GTC is run by a small staff whose members have worked efficiently to find tools that help maximize efforts in meeting the responsibilities to their region.
As the staff worked to deploy the large scale LRTP public engagement initiative in their region, they leveraged the power of technology in the form of virtual public involvement tactics to help enable and future-proof key strategy objectives like equity in and access to the public engagement process.
. . .input integrated from the first round of public engagement, formed the backbone of the Plan's needs assessment. The onset of the pandemic in 2020 showed us how quickly future needs can change.

—Lori Maher, GTC Community Engagement Program Manager
GTC unified their public engagement outreach by using PublicInput to meet people where they were in ways that work with or without a pandemic.  They live streamed Board Meetings and Planning Committee meetings during the pandemic and are now retaining the virtual option using a hybrid approach.  
Here are just a few of the benefits they realized:
Flexibility, Adaptation, & Inclusivity
Virtual meetings incorporated flexibility, adaptation, and accessibility through an integrated process that offered participatory access via:
Hotlines
Text messaging
Email
Online interaction
Impact, Accessibility, & Need
GTC leveraged web-based surveys to calculate the impacts of accessibility and regional need in their plans and programs in the following ways:
Informative Planning Studies:
Virtual Engagement
Hybrid Meetings
Integrated Social Media
Robust Surveys
Real-time Reporting
Unified Planning Work Program:
Call for Proposals
Subscriber & Segmented Lists
Dedicated Webpage
Informational Video
Virtual Applicant Workshop
Using the PublicInput platform, GTC successfully leveraged virtual public engagement tactics to reach a broader demographic, which resulted in greater inclusion and more informed decision-making.  To see examples, visit the GTC Engagement Hub.  Or to chat with an expert, schedule a call using the button below.